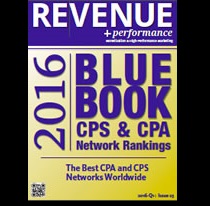 FlexOffers.com is a Top 10 affiliate network once again in the mThink Blue Book 2016 survey!
After initially ranking on the list two years ago and working hard to crack the elusive Top Ten club last year, we are pleased that our dedication has earned us another year in the company of the best networks in the affiliate marketing industry, where we belong.
We would like to give a big thanks to our tireless publishers and ever-growing advertiser base for their support throughout the year, as well as a particularly profitable final quarter in 2015. Last year also saw the addition of some of the most adept members we've ever had at FlexOffers.com, making 2016 as promising a year as ever.
---

---
There are quite a few projects near completion at FlexOffers.com that are designed to improve users' overall experience with our platform this year. We've a new interface for our publishers in the works that has been rewritten from the ground up, taking feedback into account to streamline nearly every step in the affiliate marketing process. The team is also working on an advanced API that will grant publishers more information (and formats) than ever before, and accounting applications that will have our competitors sweating a bit. These features will all be formally announced once released, but you'll definitely want to see what we have in store just around the corner.
FlexOffers.com is as ambitious as ever, and we'll only grow stronger in 2016. Thanks again to our publishers, advertisers, and team for all they do, and to mThink Blue Book for once again recognizing our efforts as a Top Ten affiliate marketing company.  
Flexibility is the key to affiliate success, and FlexOffers.com has proved it yet again.