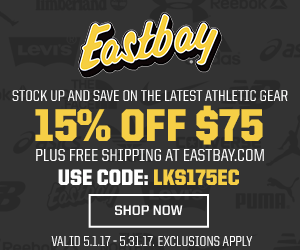 Time is quickly running out to order gifts in time for Mother's Day, which is this Sunday on May 14th.
Make the most of the love and generosity of your audience members by posting these retail links to top Mother's Day discounts on your site via FlexOffers.com today!
---
There are plenty of Mother's Day gift options available at eastbay.com for moms with a goal of keeping active. At eastbay.com, shoppers can find name brand athletic shoes for women that are ideal for running, training, and even futbol, as well as the athletic performance apparel to match.
Nike Air Max Thea Ultra – Womens – Black/Cool Grey/Bright Crimson 
---
Booking a surprise tropical getaway vacation for mom is a great way to become the favorite child. Making those hotel reservations through the InterContinental Hotels Group affiliate program is an excellent way of doing so while saving money in the process.
Book early and save up to 15% at InterContinental Hotels & Resorts
---
Inexpensive flights and lodging in the world's topmost desired tourist destinations is what LookupFare.com is known for. Whether flying to the rollercoaster capital of the US or exploring the culinary fare that France is famous for, an unforgettable venture is a few clicks away through tis travel portal.
Grab adorable mountain travel deals. Book with us & Save Big
---
The creative gift sets sold at thoughtfully.com are just the thing for practical moms who also enjoy the fun aspects of life. Families can impress with a chocolate and champagne tasting kit or even prepare breakfast in bed for mom with the curated kits available here.
Mother's Day Gifts on Thoughtfully.com
---
Mom jeans aren't necessarily a crime against fashion for those that buy the European shaping pants stocked at Livify.com. They come in a range of colors and sizes, making them easy to incorporate into countless ensembles season after season.
Get $20 on every $100 spent at Freddy by Livify! (valid 5/4-5/14)
---
The HelloFresh – US subscription service gives people the ability to pick recurring plans that cater to their diets and household, delivering everything needed to prepare a delicious meal at a day and time of their choosing. Mom will certainly be thankful for not having to make extra trips to the grocery store with HelloFresh helping her out.
HelloFresh makes it easy to keep those healthy new year's resolutions. With up to 50% off, you can say goodbye to dinnertime dramas and hello to a fresh 2017!
---
Your patrons can treat their mom to a lazy Sunday in bed this Mother's Day with the incredibly comfortable pajama sets on sale through the Hatley affiliate program. They're as bright, charming, and colorful as mom is; she's going to love them!
Mother's Day! Enjoy 25% off womens' sleepwear plus get FREE shipping on orders $75+ at Hatley! (valid until 5/14)
---
Contemporary décor, name brand furniture sets, and millions of other consumer items are on sale just in time for Mother's Day at UnbeatableSale.com. Customers can expect to save 30% to 70% off MSRPs here, inviting bargain hunters to come back whenever they have a new purchase in mind.
Save 30-70% Off Great Gifts at UnbeatableSale.com!
---
At PeruvianConnection.com, your site visitors can find artisan dresses and apparel that can help women make a powerful statement. They've the jewelry and jackets to coordinate with said dresses stocked, plus comfortable pajamas and nightgowns that mothers will enjoy wearing after particularly stressful days.
Summer 2017 Collection is here! Shop the newest styles at PeruvianConnection.com!
---
Moms everywhere will be pleased to receive the skincare and perfume sets sold through the Fruits & Passion affiliate program. Fragrant product combinations including rosemary and cardamom or orange and fennel will surely cause those who use them to blissfully smile with joy.
Mother's Day Deals! Get 25% Off on Fine Fragrance Items with The Purchase of a 50 Ml Eau De Toilette at Fruits AND Passion!
---
Load up your landing page with these enticing Mother's Day discounts, now available on the FlexOffers.com network!