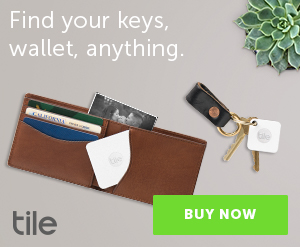 With Mother's Day just two days away, you've only a small window to promote all the engaging retail offers available on the FlexOffers.com network.
Help your readers have a memorable Mother's Day with these discounts from some of the top retailers on the web!
---
As part of a fun Mother's Day scavenger hunt, attach a Tile Bluetooth tracker to another one of mom's gifts and have her find it using the free downloadable app. Once the game is over, she can attach the Tile to her keys or purse so they'll be easier to find from now on.
Save up to 30% on the Tile Mate- Perfect Mother's Day Gift!
---
Moms who make it a point to stay active on a daily basis will love the name brand running and walking shoes sold at Final-Score.com. Since these name brand kicks are also near clearance prices, parents will be proud that their children have become savvy shoppers themselves.
Final-Score.com — Where Every Day Is Clearance Day!
---
If what mom really wants this Mother's Day is a few hours of reprieve while her baby is fast asleep, purchasing a custom Snuggle Pod from Chibebe can do the trick. These comfortable baby-friendly beanbag chairs are easy to clean and can have their stylish liners swapped out for washing should any little accidents occur during nap time.
15% Off Snuggle Pods With Code: FLEX15
---
Pure denim greatness is sold through the Parasuco Jeans affiliate program in the form of your site visitors' new favorite pair of pants. While they're there, they can buy a pair as a Mother's Day gift along with one of their cardigans or draped sweaters.
Get 10% Off Sitewide at Parasuco.com! Use code: PARASUCO10. Shop now. (Valid until 6/30/2017)
---
Premium coffee, chocolates, and cookies that will undoubtedly be a hit this Mother's Day are a few clicks away at cafebritt.com. Their storefront also sells bags of gourmet macadamia brittle and cashews that are big enough to share, but delicious enough that mom might contemplate keeping a few hidden handfuls for herself in the pantry for later.
Get Gourmet Gifts: Cookies, Chocolates, Nuts & Sweets at CafeBritt.com!
---
Through SHOP.com, your patrons can purchase everyday essentials for their home for less. Name brand cleaning products, toiletries, skincare essentials, and more are sold through this outlet, offers of up to 50% cash back on eligible purchases.
Sandals on SALE up to 50% OFF + get 4% Cashback from ShoeMetro on SHOP.COM. SHOP NOW! (Valid thru July 31)
---
Motives by Lauren Ridinger sells award-winning cosmetics that allows users to keep up with modern trends. Their broad selection of popular beauty products can transform mom from drab to glam this Mother's Day, and each purchase provides shoppers a small cashback percentage incentive.
Free Shipping on $99 order of beauty: cosmetics, skin care, fragrances, makeup kits and cosmetic brushes at MotivesCosmetics.com. Shop Now! (Valid thru May 31)
---
Boasting some of the most powerful antioxidant supplements and multivitamins sold today, Isotonix is an ideal source of goods that grant users complete antioxidant protection. As with other items under the Market America umbrella, these too give buyers a bit of cash back.
New Customers get 25% off their first purchase at Isotonix.com! Use Code FIRST25OFF. $25 max savings. Free Ship on $99. Shop Now! (Valid thru October 31)
---
Families who want to help their maternal figures on their path to a fit and fabulous body can find help in the form of the fat-burning supplements sold at tlsslim.com. Paired with a regular diet and exercise regime, users will start seeing progress in no time.
New Customers get 25% off their first purchase at Isotonix.com! Use Code FIRST25OFF. $25 max savings. Free Ship on $99. Shop Now! (Valid thru October 31)
---
Celebrate Mother's Day by marketing these enticing deals available via FlexOffers.com on your site today!