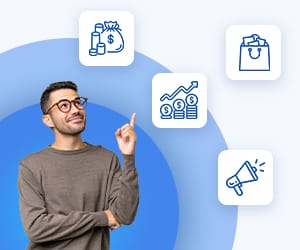 FlexOffers has over 10,000 advertisers for our partners to profit from. With numerous alternatives, it can be somewhat challenging for publishers to find the best programs to test, occasionally resulting in missed opportunities. Luckily, the FlexOffers team has curated a list of programs, that are often overlooked, generating significant revenue within our platform to help you earn more.
MegaSeats – 10% commission rate

MegaSeats.com delivers exceptional value to ticket buyers with its no-fee model and a vast selection of premium event tickets, ensuring access to coveted live experiences and high conversion rates for your traffic! With competitive pricing and a user-friendly interface, MegaSeats.com simplifies ticket purchases, making it the ultimate destination for securing tickets to favorite events. Join MegaSeats in connecting fans to unforgettable experiences and boosting your revenue simultaneously.
World of Warships – Up to $16.80 USD per registration (price varies by GEO)

Discover the untapped potential of World of Warships and unlock a world of exciting opportunities for your users. With a cutting-edge PC platform that offers innovative gaming experiences, lucrative commissions, and a dedicated support team, World of Warships is the perfect partner for affiliates seeking to maximize earnings. Join World of Warships today and tap into a passionate gaming community, high conversion rates, and exclusive promotions, all while reaping the rewards of a mutually beneficial partnership.
SelfDecode – 15% per sale

Unlock the secrets of your DNA with SelfDecode.com. As an affiliate, you have the opportunity to partner with a brand that empowers users to take control of their health and well-being through personalized genetic insights. With cutting-edge genetic reports, comprehensive health recommendations, and a passionate user base, you can promote a service that truly makes a difference in people's lives. Join us and be a part of the health revolution, while enjoying competitive commissions and excellent support for your affiliate journey.
Divorce.com – $80 per sale

Divorce.com is your patrons' trusted resource during a challenging journey. Its comprehensive platform offers expert guidance, legal support, and emotional assistance to help customers navigate the divorce process with confidence. Its user-friendly interface and valuable resources ensure customers have the tools and information needed to make informed decisions and find the support they need during this important life transition. Partner with Divorce.com to help individuals navigate the complexities of divorce while generating substantial earnings.
FlexiSpot – 5% per sale

Flexispot.com is your patrons' online destination for kinetic furniture that enhances their work and overall wellness. They provide a wide selection of ergonomic and wellness products designed to improve the customer's comfort and productivity. With a user-friendly website, top-quality products, and exceptional customer service, Flexispot.com is your partner in creating a healthier and more comfortable workspace. Join Flexispot in promoting health, comfort, and productivity through their innovative product line.
Hiya – $23.50 per sale

Hiya's Kids vitamins combine fifteen vital vitamins and minerals with twelve fruits and vegetables in a single daily chewable tablet. Hiya's vitamin line doesn't contain any added sweets, dyes, or gummy ingredients, so your patrons can rest easy knowing their children are receiving the complete nutrition they require to develop into healthy adults. With fairly hefty commissions and top-tier health products, Hiya is your shoppers' online destination for amazing vitamins and online marketing growth. Join us in promoting this high-commission, high-selling brand and become a Hiya publisher today!
iTubeGo – 50% per sale

iTubego.com is your users' ultimate solution for hassle-free video downloading. Its robust video downloader tool allows customers to effortlessly save and enjoy their favorite videos from various platforms. With a user-friendly interface and efficient performance, iTubego.com simplifies the process, ensuring customers can watch their desired content offline. Partner with us to promote a trusted brand in the online video space and increase your affiliate earnings.
Viori Beauty – 15% per sale

Viori is your destination for luxurious, nature-inspired hair care. Their premium products harness the power of rare ingredients from the remote village of Longsheng, China, ensuring your hair receives the best treatment nature has to offer. With sustainable practices and effective formulas, Viori is your partner in achieving strong, beautiful hair. Join us in sharing the benefits of Viori's natural ingredients and supporting healthy, beautiful hair while maximizing your affiliate earnings.
Talcum Claim Settlement – $125 per qualified lead

TalcClaimCenter.com is your readers' resource for information and support regarding potential talcum powder-related concerns. They are dedicated to assisting those who believe they have been affected and providing a platform for seeking justice. With informative content and a commitment to helping individuals navigate their options, TalcClaimCenter.com is an ally in addressing these important issues. Join us in raising awareness and helping those potentially impacted by talcum powder-related issues.