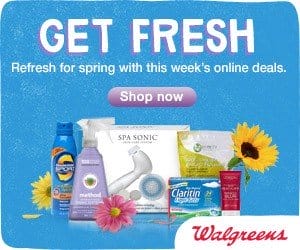 Due to the recent events surrounding the coronavirus (COVID-19), many healthcare professionals are recommending social distancing as a means to prevent exposure to the virus. Limiting social interactions can easily equate to more time at home. While staying home may seem unexciting, the allure of remaining free from illness in an immaculate, well-organized home should easily supersede the desire for socialization. Provide your site visitors with the tools to protect themselves from COVID-19 and other hazardous diseases through these top spring-cleaning savings now available on the FlexOffers network!
---
Virus-laden fluids from coughs and sneezes can remain active on surfaces anywhere from just a few hours up to three days. If your page viewers plan to arm themselves and their family against hazardous diseases, then they'll certainly benefit from shopping at Walgreens. Walgreens offers a wide variety of surface cleaners from reputable brands like Lysol, Pledge, and 409 to help them keep bacteria at bay.
Buy 2 Get 3rd FREE on select Cleaning Supplies
---
There are many drivers who enjoy rolling down their car windows and taking in their respective city's fresh air on their way to work. However, nine-to-fivers called to work from home due to the threat of COVID-19 may feel a modicum of sorrow after having their commute eliminate from their daily routine. Thankfully, Homesick Candles offers candles and oils teeming with pleasant scents from all 50 states to help those working from home get a whiff of the great outdoors whilst quarantining.
Enjoy 20% Off Sitewide W/code FLAME20 | Shop Now!
---
In order for your web traffic to consistently harness the energy to keep their living quarters spotless, it is incumbent upon them to keep their immune system performing at an optimal level. At LuckyVitamin.com, individuals seeking products to bolster their immune system will be privy to over 400 items designed to foster immune support. Currently, at LuckyVitamin.com, shoppers can receive up to 65% off immune boosters through the month of March.
Immune Boosters Sale – Up to 65% Off at LuckyVitamin.com! Offer valid 3/1/20 to 3/31/20
---
Saving physical documents to prepare for tax time is a surefire way to produce unsightly office clutter. Through The Neat Company affiliate program, the business owners among your audience can digitally store documents in a central location via mobile capture, scan, import, or email. By subscribing to The Neat Company, proprietors will be afforded fast and effortless tax prep that also reduces the amount of time needed to clean their office during spring cleaning.
Tax Day Sale! Use Code 'CF10' to Take 10% Off Complete Plans
---
If your readers are looking to outfit their living space with aesthetically appealing, yet functional furniture, then they needn't look any further than the Havenly affiliate program. Havenly pairs its customers with interior designers to ensure that every room is uniquely tailored to its client's style and individual needs. Whether your consumers' style is mid-century modern, classic, minimal, or other, they'll assuredly find home goods and decorative pieces that allow them to find their happy place through innovative, practical designs.
Subscribe to Havenly for Collaborative Interior Design Plans for as low as $19!
---
COVID-19 cases are on the rise in the U.S. and pet parents across the country will be tasked with keeping their home free of germs for themselves as well as their cuddly companion. At Chewy.com, pet owners can purchase OdoBan disinfectant fabric & air freshener to eliminate odors and mess that comes along with owning a pet. OdoBan disinfectant fabric & air contains ingredients guaranteed to kill 99.9% of germs and a wide variety of viruses within a matter of seconds.
Up to 45% off Cleaning on Chewy!
---
Capitalize on these top spring-cleaning discounts through the FlexOffers.com network!