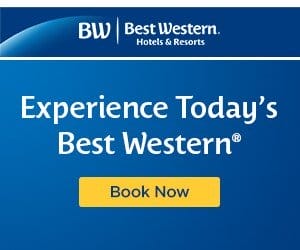 Temperatures north of the equator are finally on the rise but unfortunately, travel costs can behave in the same fashion as the summer climate. Grant your page viewers affordable travel options that enhance their summer vacation when you market these top summer travel promotions now available on the FlexOffers network today!
---
It's not uncommon for pet parents to have difficulty locking down lodging arrangement for their furry, feathered, and leathered companions while journeying across the U.S., Canada and/or the Caribbean. Recognizing that pets are essentially an extension of one's family, Best Western now has over 1,600 pet-friendly hotels, that extends peace of mind to pet owners who prefer keeping a watchful eye on their pet, even while on vacation.
Best Western – over 1600 Pet-Friendly Properties
---
By promoting the InterContinental Hotels Group affiliate program on your landing page, your site visitors will gain access to true hospitality, wherever they are in the world. At IHG.com, customers can peruse 5,000 properties in nearly 100 countries, guaranteed to fit their traveling needs. For a limited time, future InterContinental Hotels Group guests can soak up the sunshine and save 20% on their next visit to a Holiday Inn.
Soak up the sunshine and save up to 20% on your next trip with Holiday Inn, an IHG Hotel!
---
Making the long trek across the country or even out of the country seems like a great idea until boredom from sitting idle for hours at a time kicks in. Thankfully, Lenovo USA offers an assortment of laptops such as its ThinkPad T Series. The ThinkPad T Series comes well-equipped with a 15" vivid display, and an 8th Gen Intel® Core™ i7 processor, capable of keeping vacationers company up to 27 hours on a single charge.
Get 20% off on All ThinkPad Laptops with coupon THINKPADSAV20 + Free Shipping!
---
If your patrons believe that keeping pace with seasonal fragrances is equally important as remaining in lockstep with the latest fashion trends, then they needn't look any further than Macys.com. At Macys.com, shoppers can browse Calvin Klein's seasonal collection and make an on-trend olfactive statement this summer. Currently, at Macys.com cologne connoisseurs will receive a complimentary duffle bag with any large spray purchase from The Calvin Klein Summer Fragrance Collection.
Receive a Complimentary Duffle Bag with Any Large Spray Purchase from The Calvin Klein Summer Fragrance Collection. Shop Now at Macys.Com! Valid 5/24 Through 7/7
---
Through the OneTravel.com affiliate program, the excursionists among your audience can plan the vacation of their dreams while saving major cash in the process. Whether in search of reasonably priced airfare, hotels, and/or car rental OneTravel.com provides bundled pricing suitable for a variety of budgets. Now, at OneTravel.com, tourists can save up to $27 on flight fees when they use coupon code SUMMER27 upon checkout.
Summer Season Travel Savings! Up to $27 off our fees on flights with code SUMMER27
---
While spending time soaking up the sun by the beach is ideal, its harmful UVA/UVB rays can easily damage your readers' skin. Fortunately, Clarins USA sells sunscreen and after sun replenishing moisture products that allows sun dwellers to catch some rays while protecting their skin. Adventurers will also be privy to a free summer exclusive seven-piece gift that allows them to be bikini-ready at all times. The seven-piece set comes with any order $100-plus and includes its bestselling body smoothers, encased in a charming ice cream tin.
Free 7-Piece Beach-Ready Gift with any $100+ order. Use code BEACH19. Valid 5/28-6/12.
---
Whether traveling domestic or abroad, your web traffic can traverse highways and byways around the globe when they rent their vacation vehicle through RentalCars.com. By completing fields in the Rentalcars.com search widget, tourists can find low-cost rental cars in over 53,000 locations worldwide. Rentalcars.com's inventory is aggregated from notable rental car companies such as Hertz AVIS, Alamo, Budget, Enterprise, and more at prices even the most budget consumer can appreciate.
Find and book a rental car today at RentalCars.com
---
Market these top travel promotions now available on your landing page via FlexOffers.com today!