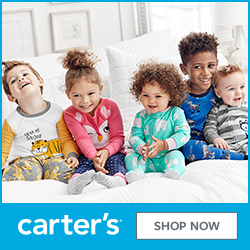 Children are the future and the fate of the world depends on their development and overall well being. Help improve the welfare of our youth and positively impact their growth and eventual progression into adulthood by promoting these Universal Children's Day savings now available on the FlexOffers network today!
---
Maximizing comfort at bedtime is paramount to achieving a good night's sleep. Though bedding has been known to enhance relaxation, nighttime apparel is equally important to one's quality of rest. Thankfully, Carter's offers a multitude of one-piece fleece pajamas with covered feet, which provides warmth and security at bedtime during the winter months.
Up to 50% off America's Favorite Jammies!
---
If the parents among your audience are of the mindset that children are becoming increasingly more immobile due to the advent of tablets and other devices, then you needn't look any further than JCPenney. At JCPenney.com, moms and dads can find stylish activewear at a discounted rate. For a limited time, shoppers can purchase Xersion activewear that encourages exercise and promotes freedom of movement for 50% off the regular price.
50% OFF KIDS XERSION ACTIVEWEAR
---
Traveling with a hangry infant or a toddler during the holidays can be difficult for parents. Thankfully, through Wal-Mart.com US travel essentials, parents can provide their babies peace while they achieve peace of mind. Wal-Mart.com offers snack options such as its Gerber Puffs baby cereal designed to quell hunger pangs through its whole-grain goodness, capable of sustaining young travelers until their next meal.
Shop winter travel essentials for babies and kids at Walmart.com
---
While parents may not be able to protect their children from all the ails of the world, they can at least start off by insulating them from chemicals commonly found in childcare products. The Honest Company protects human health through its wide range of safe, yet effective products like its eco-friendly diapers and wipes designed with sensitive skin in mind. For a limited time, The Honest Company members can get $20 off their first order of diapers, free shipping, plus wipes when they use coupon code DIAPER 20 upon checkout.
Get $20 Off + FREE Shipping on your first month's Diapers + Wipes Bundle When You Subscribe. Use Code DIAPER20.
---
Through the Chicco USA affiliate program, your web traffic can choose from various car seats, strollers, highchairs, and accessories that safely and securely usher babies through various stages of their development. At ChiccoUSA.com customers can gear up for parenthood by purchasing efficient products that make life simpler and affords them the opportunity to spend more time enjoying their children.
$70 off KeyFIt 30 Zip Infant Car Seat & Base – Available in Fuchsia and Isle, Only at Chiccoshop.com. Offer Valid for a Limited Time Only.
---
Temperatures are dropping along the Northern Hemisphere, which means your patrons will assuredly be in search of footwear capable of keeping their kid's feet nice and toasty during the winter months. Fortunately, Kids Footlocker sells Ugg Neumel II boots comprised of UGGpure fabric to wick away moisture, and Treadlite outer sole technology, which bolsters the shoe's durability. During Universal Children's Day, your readers can receive $10 a purchase of $50 or greater with coupon code LKSNOV10.
$10 off $50 at Kidsfootlocker.com! Use code: LKSNOV10. Valid 11/1-11/30. Online Only. Exclusions apply!
---
Capitalize on these Universal Children's Day savings now available on your landing page via FlexOffers.com today!