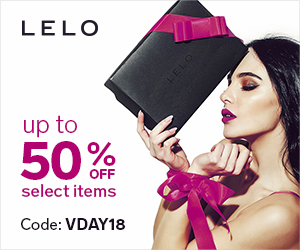 As Valentine's Day is only a week away, now is the perfect time to cater to the lovers and dreamers looking for the perfect gifts to show their affection.
Don't miss the opportunity to promote these Valentine's Day deals you'll fall in love with on your site via the FlexOffers.com network!
---
The mature members your audience who are opting to stay home this Valentine's Day will be pleased with the intimate lifestyle products available to purchase at lelo.com. There, they can choose from an array of adult toys and bedroom accessories that can add some excitement to their love life.
Save Up To 50% Off On Select Items This Valentine's Day At Lelo.Com! Use Code: VDAY18 (Valid Through 2/14/2018. Cannot Combine With Any Other Offer.)!
---
Men and women who want a full, rich, thick head of hair again will be drawn to the vitamins sold through the KeraHealth® affiliate program. Dramatic results have been seen in clinical studies, giving people with all hair types hope for maintaining the appearance of youth for just a bit longer.
Get 10% Off on Orders Above $120
---
If a spontaneous Valentine's Day getaway is more your readers' speed, they'll want to visit LookupFare.com to book their accommodations. Flights, hotels, and vehicle rental reservations can all be made through this intuitive platform to romantic destinations like Paris, or just across town if a staycation is more aligned with their budget.
---
Come Valentine's Day, it will be difficult for your patrons to set the mood with their dog constantly barking in the next room over. That's where Good Life® Bark Control's humane, no-shock collars come in, as they can keep pets in check without doing any harm. To be fair, they may just need to go for a walk, though.
Love Your Dog, But Not The Barking? Get Good Life's No-Shock Bark Collar This Valentine's Day!
---
Jewelry.com is boasting savings of 25% off heart jewelry and up to 30% off other accessories sitewide this Valentine's Day, giving your web traffic ample opportunities to save on gifts that won't soon be forgotten. Be it an elegant pair of earrings or subtly beautiful bracelet, a little lavishness can go a long way.
---
When your site visitors order a customized tin filled with a variety of gourmet cookies from Mrs. Fields as a Valentine's Day surprise, they already know that the treats will be absolutely adored. Their giant cookie cakes are a big hit for sharing with others, as are their decadent chocolate-dipped strawberries.
This Valentine's Day, gift Hand-Dipped Strawberries from Mrs. Fields! Exquisitely decorated with three chocolate flavors: milk, dark, and white. Limited time offer. Shop now!
---
Your readers will be smitten with these and other enticing Valentine's Day discounts now available at FlexOffers.com. Market them on your site today!