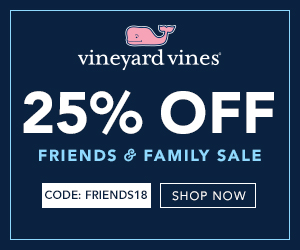 A family run business for 20 years now, Vineyard Vines is the preppy men's clothing retailer that proves the American Dream is still alive and well. What began as a men's necktie outlet has expanded to include apparel for the entire family, and during their ongoing sitewide Friends & Family Sale it's all more affordable than ever.
Don't miss your opportunity to promote these Vineyard Vines affiliate program links on your website via the FlexOffers.com network!
---
Friends & Family Sale: Save 25% Off Everything With Code: FRIENDS18 at vineyard vines!
Shop the St. Patrick's Day Collection at vineyard vines!
Shop the Easter Collection at vineyard vines!
---
From the boardroom to the boat dock, men can purchase all the apparel they'll ever need to look their best at vineyardvines.com. The online storefront offers multiple lines of casual button-down shirts that would look perfect at a beachside barbecue, particularly when paired with their signature stretch breaker shorts and a simple pair of flip-flops.
For more upscale social situations, Vineyard Vines also stocks slacks and dress shirt/tie combos that can help the gentlemen among your audience to show a bit of personality. Should their workplace dress code not favor Starboard Green chinos, customers can also browse through Vineyard Vines' array of ties that can add a pop of color to otherwise muted dress suit combos. Their bonefish-patterned bow ties and skinny ties adorned with sharks are sure to garner compliments for being as whimsical as they are stylish and tasteful.
---
Free Gift With Purchase When You Spend $250+ at vineyard vines! Offer Valid While Supplies Last
Students Save 15% Off at Vineyard Vines!
Shop Vineyard Vines Men's Casual Button Down Shirts!
---
Women who want to take advantage of the sitewide price drops during the Vineyard Vines Friends & Family Sale have lots of fashion options to choose from as well. Even if it's blisteringly cold outside right now, at 25% off, savvy shoppers may want to select a few tankinis and beach dresses to wear by the water come spring break or summertime. Performance athletic garments have also been marked down, making the chic tops and tennis shorts sold here easier than ever to acquire.
Families who want to look collectively fabulous in the coming months can coordinate their outfits via Vineyard Vines' seasonal apparel collections. Complementary blazers, dresses, and jon jons can all be currently bought in colors and patterns commemorating St. Patrick's Day and Easter, with other curated holiday looks released throughout the year. In fact, a laid-back Vineyard Vines Whale can be seen on the free limited edition long-sleeve spring break tees that collectors can get with purchases of $250 and up.
---
---
Make the most of these posh Vineyard Vines affiliate program discounts on your landing page through FlexOffers.com today!