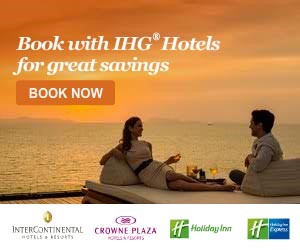 Being perpetually caught in Cupid's crosshairs on Valentine's Day can be a rather enjoyable experience but a gifter's pleasure can quickly turn to pain when their mate's wants, and desires exceed their means.
Help your page viewers express their undying affection for their partner by promoting these virtuous Valentine's Day Discounts now available on the FlexOffers network!
---
If your patrons are in search of a romantic retreat for Valentine's Day then you'll certainly want to promote the InterContinental Hotels Group affiliate program on your site. The InterContinental Hotels Group has over 5,000 hotels in nearly 100 countries, guaranteeing each guest true hospitality that makes them feel welcomed and valued wherever they are in the world. Currently, at InterContinental Hotels Group, Valentine's Day vacationers can book a romantic getaway to Bora Bora and save 15 percent using your rate.
Book a romantic getaway to Bora Bora and save 15% using Your Rate.
---
Through the Macys.com affiliate program, the lovebirds among your audience can peruse over 1,800 items of jewelry to ensure their better half's unbridled satisfaction this Valentine's Day. Shoppers can group jewelry by type, color, brand, size to streamline their search and find rings, watches, and necklaces up to 20 percent off regular price with promo code SHINE.
Take 20% off Valentine's Day Sale with code SHINE. Shop now at Macys.com! Valid 2/10-2/14.
---
Those with a wanderlust don't need an excuse to travel but with Valentine's Day on the horizon, couples and singles around the globe will assuredly be encouraged to take advantage of BookIt.com's Valentine's Day rates. Now, at BookIt.com, travelers can save up to 50 percent off February Holiday Travel to all-inclusive resorts in Mexico and the Caribbean, providing them an opportunity to indulge in extreme comfort and relaxation.
Up to 50% Off February Holiday Travel to All-Inclusive Resorts in Mexico and the Caribbean
---
Despite the fact that Valentine's Day isn't far away, there's still time to find a companion for February 14 and beyond at eHarmony.com. Every 14 minutes, someone finds love on eHarmony and your site visitors can experience similar fortune when they create a free profile and/or register for any one of its affordable, annual, or, monthly plans.
Find your Valentine on eharmony Today! Use Code VALENTINESDAY Now through February 14 and Save 15% on Any Membership!
---
By promoting the FruitBouquets.com by 1800Flowers.com affiliate program on your site, your web traffic will have access to a delicious assortment of fresh fruits guaranteed to make their giftee's taste buds smile. At FruitBouqets.com by 1800Flowers.com, customers can choose between a myriad candied confection such as chocolate covered cheesecakes, nuts, cherries, and strawberries, as well as cake pops, mini donuts, and more for 20 percent off the regular price when they order on or before 2/12.
Order Early & Save for Valentine's Day! Get 20% off when you order for delivery on or before 2/12 at FruitBouquets.com. Promo Code: FBLOVE20
---
When the adults are away, the kids will play but for parents who which to enjoy a peaceful night out on the town, minus the kids will appreciate the peace of mind they'll be provided by SpyAppMobile.com. SpyAppMobile.com gives moms and dads assurances they need through its Parent Control Software that oversees and records calls, chats, messages, and online activity, granting families a worry-free Valentine's Day.
SpyAppMobile – The Ultimate Spy System for Mobile Phones and Tablets
---
Market these virtuous Valentine's Day discounts now available on your landing page via the FlexOffers.com network!