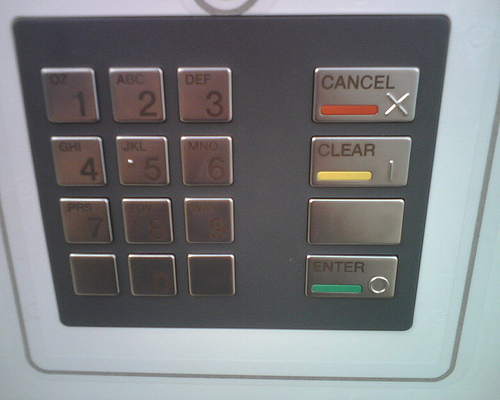 Athletes extensively training their entire lives aren't the only ones who are going to be facing stiff competition during the 2012 Summer Olympic Games in London.
As part of their exclusive sponsorship deal, Visa will be shutting down 27 cash machines around the venues for the international athletic competition and replacing them with a mere eight Visa ATMs. Fans with MasterCard or American Express cards will simply have to go elsewhere for their cash withdrawals.
Transactions They Are a-Changin'
This practice of removing competing cash machines will do more than create long queues of perturbed tourists and sell soft drinks in the sweltering heat while they wait. The Games will also serve as the perfect venue for Visa to promote their contactless and mobile payment options, such as their new V.me by Visa wallet service.
According to Visa, V.me's premise is simple: "to deliver the security, simplicity and personalization that merchants, financial institutions and consumers demand as payment technology continues to evolve." But there are detractors:
According to Ron Delnevo, the managing director of Bank Machine, the largest operator of free and fee-charging ATMs, "The vast majority of people attending the Games … have no interest in becoming guinea pigs in product launches," and the games would be "cash-starved by design."
Paperless Payments – Fair and Square
If Mr. Delnovo were to frequent any of the food truck stops around the globe that have become their own restaurant niche, he would witness the evolution of street food and paperless transactions firsthand. These mobile meccas of regional (and often international) fare are adopting paperless transaction methods such as the popular Square, Intuit credit card reader, or Visa's convenient payWave system as a quicker and more convenient method of checkout for everyone involved.
Select brick-and-mortar merchants have already begun using these methods, and the trend looks to be growing with each passing day and tasty treat sold. If a humble hotdog can be purchased without having to withdraw money at nearby cash machines, surely the 2012 Summer Olympic Games in London can perpetuate the technology to a wider audience.
Exclusive, Not Elusive
It's not as if retailers will be outright denying the hard-earned money from consumers, but those wishing to maintain their old routines and withdrawing cash will have to plan ahead. Visa spokeswoman Nancy Panter assures that "London itself has substantial payment infrastructure outside of venues," but business owners like Ron Delnovo will still be left in the cold as the Summer Olympic Games heat up in London. International spectators might be vying for their country to win gold in 2012, but they'd better not forget their plastic at home.