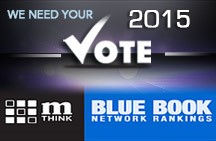 After another incredibly successful year, FlexOffers is excited to see how much higher we'll rank in the Revenue+Performance Blue Book Top 20 CPS Network 2015 survey– and we need your help!
Earning the 13th spot on the Blue Book Top 20 CPS Network list last year, our very first appearance on the list, was a huge motivating factor for our entire team to exponentially increase our efforts. We wanted prove that we not only deserved to be ranked among such illustrious industry colleagues, but merited a higher position on the list the following year.
---
---
FlexOffers.com would like to thank all of you for your continued support, and ask that you help us rise to the occasion yet again by voting for us in the Blue Book Top 20 CPS Network 2015 survey. We don't just want to rank again this year- we want to win.
Please take a moment to fill out this brief survey by clicking the link below and vote today for FlexOffers.com as the Top CPS Affiliate Network! Every vote counts, and we need yours!
Thanks!