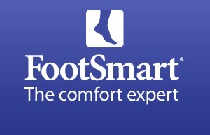 Style and comfort don't have to be mutually exclusive when it comes to footwear, particularly for your readers who shop the FootSmart affiliate program for their next few pairs. In addition to the comfy shoes they're known for, FootSmart.com also sells podiatrist designed foot health products like insoles, ankle supports, and foot baths to help ease the radiating pains that millions of people suffer from on a daily basis.
FlexOffers.com has curated a few of FootSmart's top products to promote on your site below; check them out!
---
15% OFF Sitewide + Free Shipping on orders $75+ Brand Exclusions excluded. Clearance and SmartBuys excluded USECODE: XMSJUN15
20% OFF Insoles + $4.99 Flat Rate Shipping Brand Exclusions excluded. Clearance and SmartBuys excluded USECODE: INSOL499
---
You shouldn't be deterred by the idea of promoting the FootSmart affiliate program just because they sell shoes that are "therapeutic" in nature. In fact, their inventory consists of many well-known brands like New Balance, Hush Puppies, Asics, and Timberland among others. Everything from casual sandals to durable work shoes for both women and men can be sourced through this outlet, making it one of the most flexible footwear advertisers in our network.
---
10% OFF SITEWIDE + $3.99 FLAT RATE SHIPPING on orders $75+ Use Code: FTSMRT10
10% off our top products for Arthritic knees, calf pain, Iliotibial Band Syndrome, knee pain, runner's knee and shin splints!
$3.99 FLAT RATE SHIPPING on Men's & Women's dress and casual sandals Use Code: 399SANDL
---
Speaking of flexibility, FootSmart is also an excellent marketing option for websites trying to appeal to the growing population of health-conscious consumers in this country. Diabetic-friendly hiking shoes made to withstand the elements? They've got those. Motion control running shoes that support flat arches? FootSmart has that covered as well. Even if all your audience members want to do is get up off their couch and walk around the block each evening for some brisk cardio, this retailer sells the shoes they'll need to achieve their exercise goals. The first step is always the hardest, but you'd be surprised how easy a gel insole can take care of that.
---
---
Knowing what you do now about the variety of quality shoes sold through the FootSmart affiliate program should make it easy to add a few of their links and banners on the top page of your website. Taking into account how many other enticing FootSmart offers are available to promote via FlexOffers.com, I'd say they're a pretty good fit.