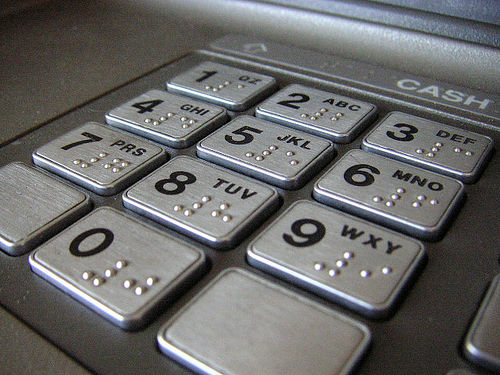 Your birthday might be one of the most joyous times of the year to celebrate, but it makes for a terrible debit card PIN, as do wedding anniversaries and graduation dates. Any pertinent piece of personal information you might keep on hand (which you shouldn't in the first place) is prone to being stolen by identity thieves, who will do much worse than clean out your wallet or pocketbook.
To educate consumers on avoiding the use of weak PINs and other bad habits that contribute to credit card fraud, leading debit/ATM network PULSE (a Discover Financial Services company) has once again recognized June as ATM & Debit Card Safety Awareness Month.
---
Creating Awareness
A recent study out of Cambridge University Computer Laboratory in West Cambridge showed one out of every 11 wallets could contain cards with easily discovered PINs, as cited by Eric Lillard, Director of Fraud Operations at PULSE. Said Lillard,"ATM & Debit Card Safety Awareness Month is a great time to change those PINs and take other steps to guard financial information and reduce the risk of becoming a victim of fraud."
While there are many features in place that are already standard for ATM and debit card security across many of the nation's top financial institutions, the most potentially threatening factor that may lead to credit card fraud is apparently one of the most common- poor judgment from cardholders themselves. PULSE processed nearly 4 billion debit transactions in 2011 alone, and have devised a few basic tips to keep consumers and their hard-earned cash safe.
Security Suggestions
PULSE suggests that consumers review their accounts online daily so that suspicious activity is spotted quickly, and keep their anti-virus, anti-spyware, and firewall programs updated. With the advent of so many social media outlets, PULSE also suggests limiting access on these platforms to only people you know so that "Fraudsters" cannot use personal information publicly available on many of these sites to "verify" your identity.
Consumers who use their smartphones for banking should keep mobile operating systems up-to-date, and keep phone access password protected. There are also a plethora of apps available to install on most smartphones that enable remote deletion of data stored within, further protecting your financial standings in case retrieval is not an option.
Also suggested by PULSE are some common sense rules that are hopefully instinctual and less instructional- don't use an ATM in an unlit area, block your PIN from view while entering it, and avoid using a phony looking ATM with loose or extra components attached.
Instilling Good Habits for Greater Protection
Like riding a bicycle, smart ATM and debit card usage takes only a bit of instruction and practice before the benefits pay off for a lifetime. Keeping your financial house up-to-date with these suggestions from PULSE are key to basic safety and security, but are by no means all that can and should be done to achieve peace of mind. To learn more about ATM and debit card safety, visit www.pulsenetwork.com/safety.