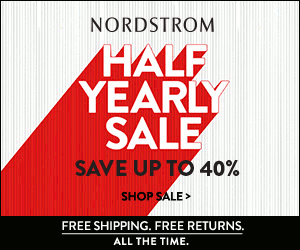 Wedding season is in full swing, and you have a lot of primping to do on your website if you want to capitalize on all the celebrations ahead. Whether getting hitched themselves or attending for moral support, advertisers know that now's the time your readers are budgeting and buying everything from gifts to dancing shoes for the reception.
Plan on promoting these wedding season sales from FlexOffers.com on your site!
---
NORDSTROM.com is the place to buy beautiful things for a beautiful day. They've exquisite bridal gowns and coordinating dresses for the entire bridal party, as well as shoes, jewelry, and other accessories to make the lucky couple really stand out on their special day.
The Nordstrom Half-Yearly Sale is here! SAVE up to 40% on Clothing, Shoes, Accessories and more for Men, Women and Kids. Now through June 5. FREE Shipping. FREE Returns.
---
Designer dresses and suits purchased through the Saks Fifth Avenue affiliate program have the uncanny ability to turn grand entrances at wedding receptions into fashion runways. Additionally, SaksFifthAvenue.com stocks gifts like kitchenware and linens that newlyweds will actually love and use.
THE DESIGNER SALE! Vast designer selections for women and men up to 40% OFF* Shop NOW!
---
Wedding bands, personalized crystalware, and more are in store for your patrons who visit Bloomingdales.com before the big day. Couples that really want to celebrate their loving union in a luxurious, over-the-top manner will marvel at the embellished essentials sold here, too.
Get the wedding of your dreams by signing up at the Registry at Bloomingdales.com! Discover exclusive savings, bonus gifts, invitations to bridal events, and free consultations, plus more! Register now.
---
Your site visitors don't necessarily need to spend an exorbitant amount of money to make their wedding day any more special, as proven by coordinators who wisely shop at Sam's Club. The retailer is a prime option for affordable appetizers that everyone will love, as well as catering components like warming trays, tables, and gazebos for outdoor weddings. Tiered cakes can be ordered from SamsClub.com as well, at relatively astronomical savings.
Save Up to $1,200 in the Memorial Day Home Event at Sam's Club!
---
High-quality personalized wedding favors are in abundance at StumpsParty.com. Everything from custom liquor bottle labels and candy bar wrappers to headphones can be ordered here, making for a truly special day that won't soon be forgotten by everyone in attendance.
10% off Wedding Centerpieces! Use code SPCENT10 
---
Flower Delivery Express
A fresh bouquet of flowers from the Flower Delivery Express affiliate program can add the perfect finishing touch to any reception hall, or serve as a charming way to select bridal party members while planning the event. These dependable experts can even be called upon to commemorate anniversaries a year removed from the wedding, and every day thereafter.
Celebrate Your Marriage With Anniversary Flowers at Flower Delivery Express! Shop Now and Save Over 50% on Roses, Fresh Bouquet's, Tulips and More!
---
Market the union of these and other top wedding discounts on your landing page via the FlexOffers.com network today!