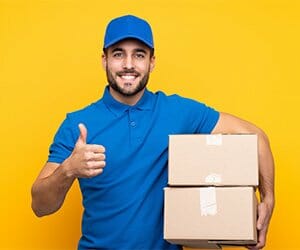 The holidays are fast approaching, which means retailers far and wide will likely participate in various e-commerce events to attract new customers. The most notable shopping holidays are Black Friday and Cyber Monday. Despite its obscure nature, National Free Shipping Day takes place on December 14th of this year, and is among the top revenue generating e-shopping events in the U.S. If you're a publisher looking to promote retailers dedicated to attracting new customers, then you'd be wise to find affiliate programs taking part in National Free Shipping Day. Uncover what you should know about National Free Shipping Day 2020 by signing up with Publisher Pro via FlexOffers.com.
---
Help Your Readership Achieve Their Holiday Dreams
FreeShippingDay.com is filled with over 1,000 advertisers committed to participating in the forthcoming e-shopping event. By way of creatives contained in FlexOffers' Publisher Pro network, publishers can help potential purchasers see their holiday visions come to life, whilst realizing a higher profile and improved profit margins. Pairing National Free Shipping Day articles with relevant marketing materials is a surefire way for publishers to appeal to their intended audience. At the end of 2019, 20% of consumers said they plan to spend less in 2020. However, e-commerce revenue is still expected to grow compared to 2019. In 2019, online spending increased by 13.1% and is projected to see another 13.9% increase in 2020. Due to global circumstances, many brick-and-mortar retail stores have limited their hours. Online sales will likely receive a boost, especially when free shipping is involved. Retailers that offer free shipping can submit their store for listing on the holiday's official site to drive more web traffic. Publishers interested in promoting retailers listed on FreeShippingDay.com can also find affiliate programs for many of the same advertisers when they join FlexOffers.com.
What is National Free Shipping Day?
National Free Shipping Day was created by Luke Knowles in 2008. As an internet entrepreneur operating a free shipping-centric domain, Knowles noticed that online sales began to decrease in early December for a myriad of reasons. Chief among consumer concerns was timeliness of delivery and cost associated with holiday shipping. In order to circumvent online shopping carts being abandoned during the holiday months, Knowles started what is now known as National Free Shipping Day. Knowles was able to piece together 250 merchants dedicated to on time delivery – free of charge. The inaugural National Free Shipping Day event netted over $700 million in online sales and instantly became a staple among holiday shopping events.
The Value of Convenience
Over 1,000 online retailers participated in National Free Shipping Day in 2019, and even more will be present on the official National Free Shipping Day List in 2020.  According to a case study by Red Door Interactive, e-commerce orders can improve by as much as 90% when retailers offer free shipping and delivery of purchased items before the holidays. Due to the relative ease and expedience associated with e-commerce shopping events, retailers have begun catering to customers who desire to complete their holiday shopping lists from the comfort of their own home – and rightfully so.
3 Reasons Retailers Feel Compelled to Provide Free Shipping During the Holidays
How can FlexOffers.com Help You Capitalize on National Free Shipping Day?
Publishers aspiring to develop content that encourages holiday shoppers to take advantage of National Fee Shipping Day needn't look any further than FlexOffers.com. By signing up with FlexOffers.com, registered users will be privy to marketing materials and promotional practices that aid their domain in becoming a leading influencer for participating National Free Singles Day brands. For example: FlexOffers' top-3 verticals have seen tremendous year-over-year growth potential during National Free Shipping Day.
Over the last two years, luxury advertisers, apparel, and footwear categories averaged a sales increase of 62% from December 12th through December 16th. While it is true that many brick-and-mortar stores will be limiting store hours, online sales will continue to thrive in the aforementioned categories.
National Free Shipping Day may have begun in 2008, but the coupon portion of the website was established in 2017 as a means for customers to obtain additional online savings. Providing shoppers with supplementary discounts via coupon and shipping codes incentivizes them to secure items on their holiday shopping list. Publishers can get in on the action by promoting luxury advertisers, apparel, and footwear and other categories on their landing page.
By registering for a Publisher Pro account via FlexOffers.com, publishers can begin increasing their viewership and commissionable earnings by utilizing links and banners related to top-ranking categories. For more information about what you should know about National Free Shipping Day 2020, publishers can reach out to their account manager at [email protected]. With the assistance of a member of the FlexOffers' expert team, publishers will increase their understanding of how to better leverage the application of FlexOffers' creatives into a greater monetary return during the holiday months.