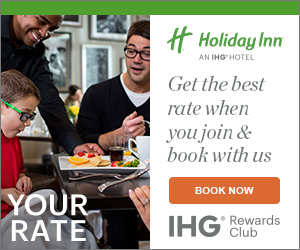 A 4K TV, diamond necklace, a pony- all are thoughtful and generous gifts that your readers can give others this Christmas, but a surprise vacation with a room booked through the InterContinental Hotels Group affiliate program beats them all.
Putting together this dream scenario is far more affordable than you think, particularly with the discounts on FlexOffers.com listed below. Check them out!
---
The World. Now on Sale. Shop Your World Sale from IHG® Rewards Club to save 15-30% off destinations across the globe for a limited time.
Where will you go next? Members save up to 15% in Orlando. Find trip ideas, hotel deals and more.
Members save up to 15% in select kid-friendly cities. Time to plan your family vacation!
---
The trick to pulling off a once-in-a-lifetime holiday surprise vacation is planning. Lots and lots of careful planning. For families, consider booking an IHG suite in Orlando under the premise of visiting grandparents for the holidays. It's still a nice gesture to do so, but surprising kids with a visit to one of Orlando's many thriving theme parks will blow their little minds. Expect shrieks of joy as soon as mouse ears start showing up on the roadside signs and smiles through the new year.
Alternatively, a beach-bound holiday escape may just be what a family needs to shake off those winter blues. Snowball fights are fun, but so is building sand castles in the Bahamas while your friends are shoveling snow back home. Just imagine the joy your readers will feel while laying out poolside at one of IHG's Nassau properties. Once they do as well, their room is as good as booked.
---
Where will you go next? Members save up to 15% in Atlanta. Find trip ideas, hotel deals and more.
Save up to 15% when you book early at Holiday Inn, an IHG hotel!
Get the best rate — Your Rate. The best deal, plus all the benefits you love when you book directly with IHG.
---
Couples who want to discover new cultures together can experience a whole new world through IHG.com. There, they can save between 15% and 30% off properties in sought-after locales that are far away from family drama, if that's the way they want the holidays to play out. There are rooms for a range of budgets as well, so spontaneous lovebirds can still affordably get away.
That's not to say that IHG.com isn't also a good source for springtime travel planning. Pairs who are inclined to go back home for the holidays can also book rooms for a Valentine's Day getaway in a few months, which gives them ample time to budget themselves accordingly. That way, they can treat themselves after taking care of others without any regrets.
---
---
Make the most of these enticing InterContinental Hotels Group deals; promote them on your site through the FlexOffers.com network today!