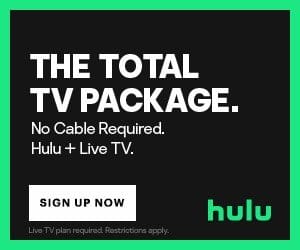 Even if your page viewers' favorite team is bounced out of the big tournament earlier than expected, they can still exit the college basketball postseason with their head held high. Regardless of their team's performance in the tournament, basketball lovers can score big discounts before, during, and after the final buzzer when you promote these winning college hoops bargains now available on the FlexOffers network!
---
Are your site visitors among the many who have recently cut ties with their local cable provider? If the answer's yes, then they'll likely be in search of a streaming service to watch marquee basketball games throughout the month of March. Hulu now offers live television that enables hoops enthusiasts to capture every minute of bracket-bursting basketball at an affordable rate.
Stream March Madness with Hulu + Live TV for just $54.99 a month!
---
Through the Party City affiliate program, college hoops watchers can throw a party and outfit their living space in the same color as their team of interest. Party City offers tableware and decorations that represent over 60 colleges. Its variety of game day essentials allows party hosts to proudly demonstrate their fandom and make visitors keenly aware of their homecourt advantage.
Buy 2, Get 1 Free 16oz 50ct Plastic Cups. Shop Today
---
Whether cheering on a college basketball juggernaut or this year's Cinderella team, basketball purists can purchase tickets with StubHub US to root for their squad – in person. The college hoops scene is teeming with players who will someday grace the professional basketball stage. StubHub US affords its customers the opportunity to purchase the best seats in the house and get a sneak peek at tomorrow's shooting stars.
Get the best seats for the March Madness NCAA Tournament
---
Intensely supporting a team during the big tournament is enough to rouse bouts of anxiety. Additionally, missing portions of the game to make trips to the grocery store to keep guests' stomachs happy certainly doesn't help. Thankfully, through the Shipt affiliate program, your web traffic will no longer have to miss a moment of action while replenishing the snack tray. At Shipt.com, customers can use their mobile device to scroll through the grocery store aisles and connect with Shipt shoppers to have their items delivered directly to their front door.
Try Shipt Grocery Delivery Free for Two Weeks and get all your snacks for Spring Sports!
---
This year's college hoops tournament will likely include not just one but multiple shining moments throughout. With the purchase of a Samsung 8K QLED television, your readers can experience the college basketball postseason in unimaginable depth and detail. Samsung's 8K QLED televisions feature 16x the resolution of full HD and possess AI upscaling, which remasters today's content into stunning 8K quality.
Pre-order your Samsung 8K QLED TV today! Plus Free Shipping!
---
Watching a bracket ruining game is certainly less than inspiring. However, a busted bracket coupled with a living room mess created by unmannerly guests is an insult to injury. By shopping at Appliances Connection – Exclusive Luxury Appliances, consumers will be granted access to home goods and appliances like the LG HOM-BOT. The LG HOM-BOT is a robotic Wi-Fi enabled vacuum cleaner that automatically diagnoses and eliminates messes. Its relative ease and convenience allow homeowners to keep their floors clean without lifting a finger.
High-End Appliances & Furniture
---
Market these winning college hoops bargains on your landing page now available via FlexOffers.com today!