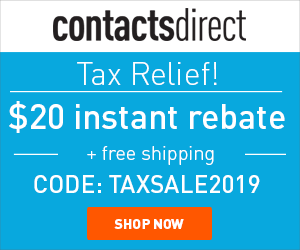 World Health Day was created to raise global health awareness and commemorate the founding of the UN's World Health Organization. You can celebrate this mindful annual event taking place April 7th by promoting links on your site that cater to the health needs of your readers, including discounts on vitamins, balanced meals, and exercise essentials.
Make the most of these World Health Day 2019 savings now available through the FlexOffers.com network!
---
The ContactsDirect affiliate program makes it easy for anyone with vision issues to obtain name brand corrective lenses at affordable prices. Not only does ContactsDirect accept many vision insurance plans and honor benefits from numerous out-of-network companies, but they also apply these benefits at checkout for customers as if they were coupons in their cart, demystifying the whole process.
Tax Relief! $20 instant rebate at checkout!
---
Boasting an inventory of over 45,000 health and wellness products, Vitacost.com is an incredible online source for the vitamins and supplements that your site visitors are likely taking on a daily basis. With markdowns of up to 50% off retail prices and easy shipping across the U.S., they're more convenient than any brick and mortar shop- and with a far better selection.
Get 15% Off Your Order! Use Promo Code APRIL15. Valid from 3/31/19 at 7 A.M. E.T to 4/4/19 at 9 A.M. E.T. While Supplies Last. Exclusions May Apply!
---
Even if your audience members somehow set off smoke alarms when serving themselves a bowl of cereal and milk, they won't have trouble preparing the ready-to-cook meals delivered to their door via chefsplate.com. Featuring fresh pre-portioned ingredients and step-by-step instructions, even the most apprehensive home cooks can whip up something they'd be proud of in less time than it would take for yet another food delivery to arrive.
50%off your first order. Get Chefs Plate today.
---
The great outdoors is much greater when you're clad in the durable, yet stylish, name brand gear and apparel sold at moosejaw.com. There, shoppers can save on essentials for exploring the world and getting their workouts in, be it while mountain biking, rock climbing, or hiking to find the perfect spot to take a selfie. #camping #kumbaya
20% off one full price item with code ALMOST20
---
When you load up your landing page with the Finish Line affiliate program's text links and banners, you will be connecting your patrons to an awesome advertiser filled with fashionable sneakers for the entire family. Stocking the top brands in the industry, they also sell training gear for getting in shape and putting the competition, no matter the game, on notice.
Get $10 Off $100 with Code BLOOM10 at Finishline.Com!
---
A titan of a brand that needs no words to be recognized across the globe, chances are your web traffic is wearing Nike performance apparel and footwear at this very moment or has some of their products in their gym bag or closet at home. You don't need to be an elite athlete to wear Nike, but if you do, you'll definitely feel like one.
Wear Your Pride. Women's World Cup gear launches April 5th.
---
Shape up your sales with these World Health Day 2019 savings via FlexOffers.com today!