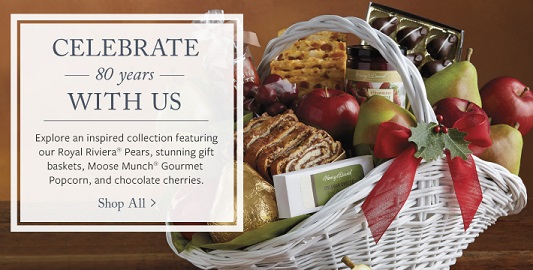 Regardless of one's gender, race, religion, or political beliefs, World Kindness Day is an opportunity to show how impactful a gesture of good will can be. As a marketer, this presents a great opportunity to empower people with options of generous items to give the people they know, and even they ones they don't.
Bring a little sunshine into the lives of others with these World Kindness Day deals from FlexOffers.com!
---
Harry & David

The gourmet food gifts sold through the Harry & David affiliate program are fine ways of rebuilding bridges that may have been torn down in people's lives long ago. All it takes is a nice bottle of wine, some imported cheese, and an open mind to start the process of bringing friends back together again.
Enjoy 15% of Orders of $75 or More. Code:THANKS15 (ID 12379833)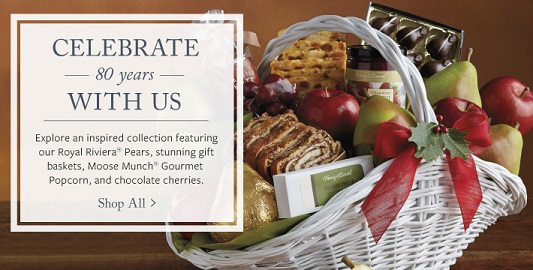 BaubleBar
The jewelry pieces stocked at BaubleBar.com make great everyday gifts, and are a stylish way for your patrons to pay it forward in honor of someone that was once kind to them. Fashionable and affordable, these necklaces, rings, and earrings can easily be incorporated into existing wardrobes.
BaubleBar X Jawbone Collection! Shop the Fashion-Forward, Embellished Activity Bracelets Now!


Floraqueen
On birthdays, Mother's Day, and World Kindness Day, the international flower delivery experts from the floraqueen.com affiliate program are sure to deliver. Customers can discover wonderful scents and colors from these gorgeous bouquets, which make great desk decorations or centerpieces at the dinner table.

FTD
If your patrons want to place an order for flowers or an elegant plant for the next day, the FTD.com online gift shop should be at the top of their list. During Valentine's Day or any other joyous occasion throughout the year, the FTD affiliate program should be at the top of your promotional list, too.
Need flowers fast? Get Same Day Delivery from FTD!

Cheryl's
Cookies can bring a smile to nearly anyone's face, even when they're not donating blood or supporting a local bake sale. Distributing baskets of freshly baked cookies, brownies, or gluten-free desserts can work wonders for winning people over, particularly when paired with a smile.    
Save $20 On Our November's Delicious Flavor Of The Month! 36 Frosted Cinnamon Pumpkin Cookies Delivered For Only $29.99 (Reg. $49.99) At Cheryls.Com! (Gift #110251.)!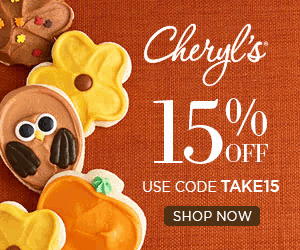 fruitbouquets.com
Fruit is a refreshing and nutritious treat that can be enjoyed by all, including health-conscious individuals, on World Kindness Day. Sharing a few skewers of fruit from an arrangement ordered at fruitbouquets.com with classmates or coworkers is a great way to create a positive environment and make real progress.
Save 15% Off Select Fresh Fruit Arrangements From Fruitbouquets.Com!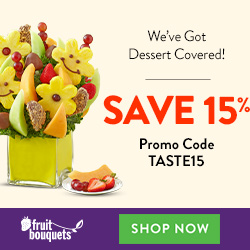 Stock Yards
On World Kindness Day, what better way is there to squash beef than with actual beef? Should your web visitors want to win a frenemy over, a cooler full of USDA Prime steaks from the Stock Yards affiliate program searing on the grill (along with a few frosty beverages) may be all that's needed.  
Get FREE Shipping on Steaks, Burgers & Other Fine Stock Yard Meats on orders of $75+ at StockYards.com! Use coupon code: STEAKME (Offer ends 12/31/2015. Some exclusion apply)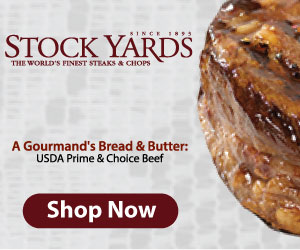 Teavana.com
Serving a warm cup of freshly brewed tea from Teavana.com is an excellent way to set a calming mood for what may otherwise be a stressful conversation. In the time that it takes for the exotic blends available from this outlet to steep, your patrons may just be seeing things from a new perspective.
Teavana.com offers great gift ideas like Teas, Tins, Mugs, Teapots and Gift Sets & Get Free Shipping on all orders over $50!


paulaschoice.co.uk
Paula's Choice reminds us that it's also worthwhile to be kind to our skin, especially with harsh winter conditions approaching. Customers in the UK can take advantage of the paulaschoice.co.uk affiliate program, which offers a line of scientifically-formulated, ethically-produced skincare and cosmetics products that will make a thoughtful gift for their loved ones, themselves, or both. 
10% off all Retinol Products at PaulasChoice.co.uk! Limited time offer! (Valid 11/01-19 only. Cannot be combined with other offers or applied to prior purchases)
Kindness is a language that knows no boundaries, giving you a chance to help others make a positive difference across the globe. Make the most of these and other rebates on World Kindness Day available via FlexOffers.com!