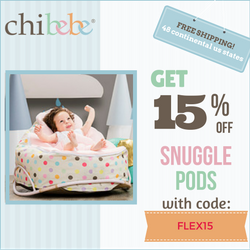 Boasting the world's best baby bean bags, Chibebe sells seats that are as comfortable as they are creatively designed. Originally made with preventing reflux and flathead symptoms in mind, these seats will soon become a permanent part of life for families with little ones looking for a space to call their own.
Don't let your readers settle for subpar child seating; promote these Chibebe baby furniture bargains on your website through FlexOffers.com!
---
Easter Sale – 20% Off All Snuggle Pods With Code: EASTER2017
15% Off Snuggle Pods with code: FLEX15
Personalized Hand Written Messages Included With Every Purchase
---
Even at an early age, finding a soft yet supportive seat to spend time in is a true treasure. The bean bags sold through the Chibebe affiliate program provide said support while also keeping some modern sensibilities in mind.
Parents among your audience know just how easy it is for their children to spill a drink or some food, ruining an otherwise pristine piece of furniture. The water-resistant covers of Chibebe's Snuggle Pods make spot cleaning an easy affair; most spills are gone with nothing more than a quick, damp wipe. If more rigorous cleaning is needed or parents just want to redecorate their baby's room, Snuggle Pod covers are sold in an array of colors and designs that can be easily swapped out on a whim.
---
FREE GIFT With Every Purchase Over $99
FREE SHIPPING in the U.S. for orders over $99 – excludes Hawaii & Alaska
Create a Custom Snuggle Pod – Chibebe.com – Get Started Today!
---
Finicky kids seeking extra support can be satiated with the accessories sold through Chibebe's online storefront. Parents with offspring accustomed to soothing swaying motions as they go to bed can order a sturdy Pod Rocker accessory to place under the standard Snuggle Pod. Similarly, during chilly seasons, the embrace of a Pod Warmer attached to a Snuggle Pod is sure to work wonders when putting kids down for a momentary reprieve.
Should an overtly exciting session of playful roughhousing or a curious pet cause a bit more damage to your site visitors' Chibebe Snuggle Pods than just a minor stain, replacement components can be bought on their site as well. Spare covers, extra inner filling bags, and even more bean filling can be delivered to a customer's door in a matter of clicks. Doing so protects their investment if a single Chibebe Snuggle Pod component becomes compromised.
---
---
With contemporary design aesthetics and supremely comfortable construction, you'll be remiss to pass up on marketing these Chibebe deals through the FlexOffers.com network. Link them on your landing page today!