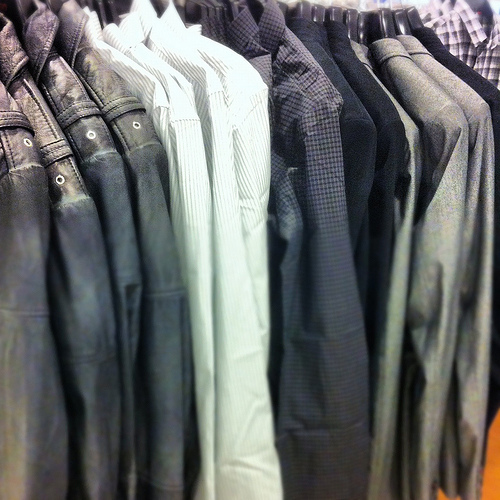 As temperatures drop toward the end of each year, the popularity of the latest chic cold weather clothing inevitably rises. Unless your audience members are content with wearing the same old worn-out sweaters they draped over themselves last year, it might be a good idea to promote a few fashion forward clothing and accessories affiliate programs on your website to meet their needs.
---
Selecting Superior Style and Value
In our style conscious society, it's only a matter of time before some of your site visitors are concerned with embarrassingly appearing in pictures online wearing the same winter clothing they've had for years. To help them stay ahead of the style curve and increase the possibilities of positive momentum on your site, the key is finding an affiliate program that can outfit your audience in the latest fall trends.
Many department stores are not only stocking their shelves with the latest jackets, sweaters and hoodies for women, men, and children, but clearing out last year's collections in order to make the room they need. As such, their respective affiliate programs can appeal to those either looking for the newest clothing items from designer brands they love or bargain hunters simply looking for a good deal. Either shopper at the end of the spectrum will be scouring the web for new apparel in coming months, so it behooves you to begin considering your affiliate options as soon as possible.
Rolling out new fall clothing lines isn't a practice solely reserved for large department stores, as many specialty clothing affiliate programs are also beginning to promote their newest wares for winter. From sports-branded gear to maternity wear, urban styles to underground fashions, there are numerous options available to appeal to everyone that visits your site.
Don't Wait for the Holidays
It's not an uncommon practice for designers to hold off on the release of new fashion lines until the traditional winter holiday shopping season begins. This ensures plenty of new merchandise to grab the attention of those shopping for gifts for their friends and loved ones.
Rather than becoming another inconsequential online outlet updating your site as new winter clothing is released, you can begin building a retail fashion repoire with your audience now to better the chances they'll return to you then. Just as you would rather do business with someone you know and trust, your web traffic wants the comfort and peace of mind that you are the right option for their holiday shopping needs. Marketing savvy minds might consider it more than mutually beneficial if you begin that relationship with your audience sooner than later.
Warming Up to Winter
Covering up for cold weather transcends age and social demographic boundaries, making the option to promote clothing and accessories affiliate programs on your site a smart choice. Fashionistas will not only be looking for the latest trends and the best bargains this fall, but gifts for their friends and family as winter holidays approach. To make the most of this opportunity, you should start selecting the affiliate programs that fit your audience best before it gets any nippier outside.