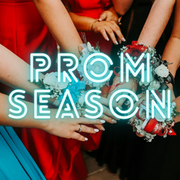 Prom season is rapidly approaching, and the FlexOffers affiliate marketing team has gathered the latest deals for teens everywhere to stand out from the crowd.
Help your shoppers have a fun and special prom night by promoting these dazzling prom season deals now available on the FlexOffers network! 
Macys.com is the online destination for affordable prom dresses, tuxedos, and accessories. Macy's All Things Prom Shop features a rich catalog of elegant attire and fashionable accessories, allowing customers to dress as queens and kings for one of the most memorable nights of their lives. Promote Macys.com discounts on your site and help fashionistas own their style on prom night.  
Own Your Style! Shop All Things Prom at Macy's!
Neiman Marcus makes prom dress shopping easier for young women. Its assortment of chic dresses features numerous designs and color shades in a bevy of sizes to match everyone's style. Market Neiman Marcus deals on your site to help your customers impress everyone at the party from the entrance to the dance floor.    
Dancing and having fun are a must on every prom night, but one's feet shouldn't suffer the consequences. By promoting Zappos.com discounts on your site, young men will be privy to a huge selection of comfortable and stylish shoes that will help them dance the night away. Now at Zappos.com, customers can find great gift ideas for teen boys ahead of their prom night. 
GAP is one of the most iconic apparel pieces and accessories brands committed to revolutionizing the American casual style. At gap.com, customers can purchase high-quality, trendy styles for everyone at home, including teens. Its Teen Shop was made for the generation moving society forward, featuring comfortable and sustainable clothing for boys and girls at prices that won't break the bank. 
Whether it is their first or last prom night, a fresh FromYouFlowers.com bouquet can certainly make the day extra special. FromYouFlowers.com offers a collection of stunning floral arrangements for all occasions. For a limited time, customers can save up to 50% off on all flower bouquets and gift sets when using promo code 14S at checkout. 
Save up to 50% on all flowers and gift with code 14S
A festive and fun fruit bouquet from Edible Arrangements can go a long way towards leaving a smile on every recipient's face this prom season. When shopping at ediblearrangements.com, parents can shower their teenagers with beautiful, tasty fruit arrangements and decadent chocolate-dipped treats to celebrate their special night. Currently, Edible Arrangement customers can save $10 off their order of $59 or more when using the coupon code AFFLGEN10 at ediblearrangements.com. 
$10 off $59 or more at Edible Arrangements! Use code AFFLGEN10. Shop Now!
When wearing Fenty Beauty cosmetics and skincare products, customers are guaranteed to have all eyes on them all night long. This prom season, customers can purchase Fenty Beauty best sellers and get ready to look glamourous without going over budget. Now, at fentybeauty.com customers can obtain free 2-day shipping services with their orders of $75 or more. 
Free 2-day U.S. shipping with $75 order and free returns.