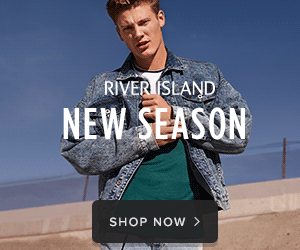 Though Father's Day is just around the corner, you still have time to optimize the links on your landing page with savings on all kinds of gifts that dads will enjoy.
Make the most of these last-minute Father's Day 2018 sales on tech, clothes, sporting goods, and other essentials through FlexOffers.com today!
---
Currently boasting an amazing 60% off shoes and accessories, the River Island – US affiliate program is a great choice for shoppers on a budget this Father's Day. That said, they don't sacrifice style for the sake of price, perpetuating their popularity among those seeking contemporary apparel.
---
At jcp.com, your site visitors can purchase entire new outfits for dad from the brands he already knows and loves. The online portal for this famed department store also sells supremely stylish watches, designer colognes, and workout clothes to keep fit and complete chores around the house.
Men's St. John's Bay Polo Shirts. Buy One, Get Two Free. Select Styles. Valid 6/10-6/17!
---
As far as men's grooming needs below the belt go, Manscaped is a cut above the rest. The American-made cleansers and deodorizers in their inventory pair perfectly with their electric trimmers and safety razors for an unparalleled personal upkeep experience.
Manscaped – The Only Tools Dad Doesn't Have
---
Dads who pride themselves on maintaining majestic beards will definitely be pleased with all-natural grooming products for guys sold at beardscape.com. Everything from softeners and washers to curated beard kits with everything needed can be bought through this online outlet for Father's Day.
20% OFF all products at Beardscape.com – Promo Code: BEARD20
---
Whether working on a small business project or looking up instructions for how to repair a leaky pipe at home, the laptops and tablets available from the Lenovo USA affiliate program are key tools to help dad remain as reliable and dependable as possible. Father figures who enjoy gaming with their families can also trust Lenovo Legion towers to give them the processing edge in the heat of friendly battle when it matters the most.
$100 off stylish and powerful new Lenovo V330 series, starting at $539 with code LENOVOV330
---
If your patrons' idea of an idyllic Father's Day involves grilling outdoors or trekking through trails, then Target.com will hit the spot for them. This popular discount department store also stocks wearable tech gift and inexpensive casual clothing among millions of other items, making them a convenient shopping option for your audience members in the days ahead.
Outdoor & sporting goods deals for Dad
---
Market these and other last-minute Father's Day 2018 sales on your site, now available via the FlexOffers.com network!