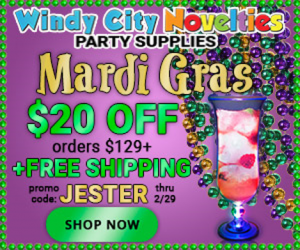 Whether traveling or planning a rousing celebration for Mardi Gras, commemorating such a carnivalesque occasion can wreak havoc on one's budget. Encourage your site visitors to party harder than they've ever partied before while saving major cash by promoting these marvelous Mardi Gras savings now available on the FlexOffers network!
---
By promoting the Windy City Novelties affiliate program on your landing page, the party-goers among your audience will gain entry to over 300 Mardi Gras party supplies. Through its assortment of colorful glow products, those participating in Mardi Gras festivities can stand out from the crowd as its themed pieces are guaranteed to permeate the night's sky and conversations with new acquaintances.
$20 Off Mardi Gras Party Supplies $129 Plus with Code JESTER now thru 2/29 at Windy City Novelties!
---
The sheer mention of a trip to the Big Easy for Fat Tuesday is more than enough to overcome future travelers with excitement. However, its not uncommon for airfare costs to limit the quality of a jet setter's vacation once they arrive in "N'awlins." Thankfully Travelocity allows adventurers to choose from over 400 airlines, which enables them to find flights that best suit their travel agenda and budget.
None other than N'awlins this Mardi Gras! Book Our Best Deals for New Orleans Vacations with Travelocity.
---
If your patrons are planning a stay in New Orleans for Mardi Gras, then they needn't look any further than the InterContinental Hotels Group. At IHG.com, tourists can book a stay at the InterContinental New Orleans which places its guests at the epicenter of all Mardi Gras festivities. The InterContinental New Orleans features viewing stands in front of the hotel, renowned food and beverage options and tickets to Mardi Gras parades.
See the City Lights & Save at least 15%
---
Mardi Gras parades oftentimes include traversing miles of pavement on foot. While style is important, comfort is especially valuable for excursionists galivanting New Orleans without transportation. Thankfully, Aerosoles offers supportive footwear that successfully blends fashion and functionality such as its Drivers shoe. Aerosoles Drivers shoe contains a memory foam insole for a sumptuous padded insole to soothe and accompany your web traffic's feet for the duration of their Mardi Gras endeavors and beyond.
It's all about the mule this season. Shop Aerosoles collection of slip-on heels, flats, sandals and wedges that feel as good as they look.
---
Taking pictures with friends and family is an essential part of the Mardi Gras experience but if your patrons happen to damage their phone, while traveling, they'll likely be forced to tell others about their vacation strictly from memory. Through the OtterBox affiliate program, vacationers can purchase colorful cases that protect their phone and their memories at a discounted rate. Currently, at OtterBox, customers can save 10% site-wide and receive free shipping with code OTTER10.
Save 10% Site-Wide And Get Free Shipping With Code OTTER10 at OtterBox.com!
---
JESSICABUURMAN provides your readers with on-trend fashion that allows them to mix and match styles of clothes, shoes, bags, and accessories to accomplish their desired look. This clothing line draws inspiration from street fashion, bloggers, and celebrities, which affords Mardi Gras participants a plentitude of options to look their best while wandering about New Orlean's city streets.
Mardi Gras Sale – 15% Off + Free Shipping
---
Capitalize on these marvelous Mardi Gras savings now available through the FlexOffers.com network!