VARIOUS SERVICES AVAILABLE FOR ADVERTISERS

FLEXOFFERS ACHIEVES A
WHOLE NEW LEVEL OF EXCELLENCE
Affiliate Program Management
At FlexOffers.com, we are committed to helping advertisers meet and exceed their affiliate program management needs. We specialize in creating compelling and lucrative affiliate programs by leveraging our considerable experience to optimize the latest promotional materials you bring to the table. As no two programs are exactly alike, each will receive individual attention from our team. This helps to create the best unique solutions for creating, managing, and growing new campaigns.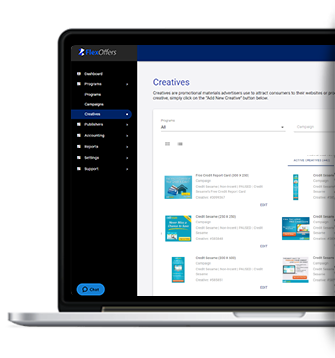 Success in the affiliate marketing industry requires hard work and constant attention to optimize your promotional options, and that's what FlexOffers.com is here for. Our expert Affiliate Management Team can work with you to implement dynamic, effective strategies designed to grow your business.
FlexOffers.com has built great relationships with countless publishers through years of dedication and proven results. These bonds grant us the ability to negotiate better marketing initiative integration, including additional exposure and exclusive placements on high-traffic websites.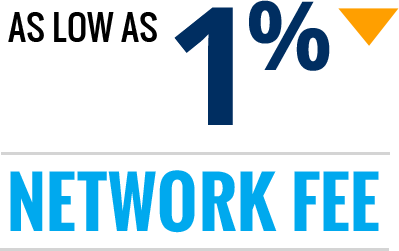 Self-Managed
Setup
and Launch
Full Program
Management
TERM
Monthly
90 Days
Monthly
MANAGEMENT FEES
N/A
CONTACT US
CONTACT US
 
 
 
 
Access to FlexOffers Advertiser Platform
UNLIMITED
UNLIMITED
UNLIMITED
Publisher Payments
UNLIMITED
UNLIMITED
UNLIMITED
Standard Reporting
UNLIMITED
UNLIMITED
UNLIMITED
Click Tracking
UNLIMITED
UNLIMITED
UNLIMITED
Impressions Tracking
UNLIMITED
UNLIMITED
UNLIMITED
Campaign Tracking
UNLIMITED
UNLIMITED
UNLIMITED
Custom Publisher Payouts
UNLIMITED
UNLIMITED
UNLIMITED
Publishers
UNLIMITED
UNLIMITED
UNLIMITED
Advertiser Access to Stats
UNLIMITED
UNLIMITED
UNLIMITED
Advertiser Ability to Create Campaigns
UNLIMITED
UNLIMITED
UNLIMITED
Create Similar Campaigns
UNLIMITED
UNLIMITED
UNLIMITED
Import Data via CSV, excel and XML formats
UNLIMITED
UNLIMITED
UNLIMITED
Export Data in CSV, excel and XML formats
UNLIMITED
UNLIMITED
UNLIMITED
Upload Custom Logos
UNLIMITED
UNLIMITED
UNLIMITED
Pixel Implementation, Testing, and Tracking
INCLUDED
INCLUDED
INCLUDED
Advertiser Branded Publisher Sign-up Page
INCLUDED
INCLUDED
INCLUDED
CPA, CPS Performance Marketing Models
INCLUDED
INCLUDED
INCLUDED
Snapshot Dashboard
INCLUDED
INCLUDED
INCLUDED
Real-Time User View
and Reporting
INCLUDED
INCLUDED
INCLUDED
iPhone / iPad Compatible
INCLUDED
INCLUDED
INCLUDED
Customized Email Templates
INCLUDED
INCLUDED
INCLUDED
Custom Advertiser Terms
INCLUDED
INCLUDED
INCLUDED
Custom Publisher Terms
INCLUDED
INCLUDED
INCLUDED
Custom Campaign Terms
INCLUDED
INCLUDED
INCLUDED
Multiple Programs - One Account Management
INCLUDED
INCLUDED
INCLUDED
 
Self-Managed
Setup
and Launch
Full Program
Management
 
 
 
 
Advertiser and Publisher Support
INCLUDED
INCLUDED
INCLUDED
Telephone Support (9AM-7PM EST, M-F)
INCLUDED
INCLUDED
INCLUDED
Dedicated Account Managers
INCLUDED
INCLUDED
INCLUDED
Detailed FAQ Page
INCLUDED
INCLUDED
INCLUDED
 
Self-Managed
Setup
and Launch
Full Program
Management
 
 
 
 
Categorize Campaigns with Custom Names
UNLIMITED
UNLIMITED
UNLIMITED
Pass Additional Variables in URLs
INCLUDED
INCLUDED
INCLUDED
Pass Google Analytics Parameters in URLs
INCLUDED
INCLUDED
INCLUDED
Require Publishers to Apply to Run Campaigns
INCLUDED
INCLUDED
INCLUDED
Expiration Dates for Campaigns
INCLUDED
INCLUDED
INCLUDED
Include Additional Terms and Conditions by Campaigns
INCLUDED
INCLUDED
INCLUDED
Manage Creative Files for Campaigns
INCLUDED
INCLUDED
INCLUDED
Upload Banners
UNLIMITED
UNLIMITED
UNLIMITED
Bulk Upload Multiple Banners and Text Links
UNLIMITED
UNLIMITED
UNLIMITED
 
Self-Managed
Setup
and Launch
Full Program
Management
 
 
 
 
Image Tracking Pixel
INCLUDED
INCLUDED
INCLUDED
Track Campaigns from Other Networks
INCLUDED
INCLUDED
INCLUDED
Adjust Tracking Lifespan for Campaigns
INCLUDED
INCLUDED
INCLUDED
Generate Impression Pixels and Track Impressions
UNLIMITED
UNLIMITED
UNLIMITED
 
Self-Managed
Setup
and Launch
Full Program
Management
 
 
 
 
Custom Publisher Payouts by Campaigns
INCLUDED
INCLUDED
INCLUDED
Adjust Publisher Invoices
INCLUDED
INCLUDED
INCLUDED
NET 30 Invoice Payments
INCLUDED
INCLUDED
INCLUDED
NET 7 Invoice Payments
INCLUDED
INCLUDED
INCLUDED
Wire Transfer Integration for Paying Invoices
INCLUDED
INCLUDED
INCLUDED
Direct Deposit Integration for Paying Invoices
INCLUDED
INCLUDED
INCLUDED
ACH Integration for Paying Invoices
INCLUDED
INCLUDED
INCLUDED
PayPal Integration for Paying Invoices
INCLUDED
INCLUDED
INCLUDED
Self-Managed
Setup
and Launch
Full Program
Management
 
 
 
Auto-Generated Tracking Links
UNLIMITED
UNLIMITED
UNLIMITED
SEO Friendly Tracking Links
INCLUDED
INCLUDED
INCLUDED
FlexOffers Unique Domain IDs
INCLUDED
INCLUDED
INCLUDED
FlexOffers Unique Product IDs
INCLUDED
INCLUDED
INCLUDED
FlexOffers Unique Campaign IDs
INCLUDED
INCLUDED
INCLUDED
Publisher Defined Campaign IDs
INCLUDED
INCLUDED
INCLUDED
FlexOffers Unique Content IDs
INCLUDED
INCLUDED
INCLUDED
FlexOffers Unique Transaction IDs
INCLUDED
INCLUDED
INCLUDED
Deep Link Product IDs
INCLUDED
INCLUDED
INCLUDED
Source Tracking
INCLUDED
INCLUDED
INCLUDED
Sub IDs Tracking
INCLUDED
INCLUDED
INCLUDED
Pass Custom Variables
INCLUDED
INCLUDED
INCLUDED
Auto-Generated Creative Code
INCLUDED
INCLUDED
INCLUDED
Deep Linking Tracking Links
INCLUDED
INCLUDED
INCLUDED
Multiple Campaign URLs
INCLUDED
INCLUDED
INCLUDED
 
Self-Managed
Setup
and Launch
Full Program
Management
Real-Time, By the Minute Statistics
INCLUDED
INCLUDED
INCLUDED
Pre-Generated Reports
INCLUDED
INCLUDED
INCLUDED
Completely Custom Reporting
INCLUDED
INCLUDED
INCLUDED
Drilldown with Filters and Groups
INCLUDED
INCLUDED
INCLUDED
Export to CSV and Excel
INCLUDED
INCLUDED
INCLUDED
Click Referral Report
INCLUDED
INCLUDED
INCLUDED
Referring URL Report
INCLUDED
INCLUDED
INCLUDED
Referring IP Reports
INCLUDED
INCLUDED
INCLUDED
View Reports from Click to Sales and Conversion
INCLUDED
INCLUDED
INCLUDED
Sales and Conversion Approval/Rejection
INCLUDED
INCLUDED
INCLUDED
Search Sales and Conversions by IP, URL and More
INCLUDED
INCLUDED
INCLUDED
Self-Managed
Setup
and Launch
Full Program
Management
 
 
 
24/7 Publisher Monitoring
INCLUDED
INCLUDED
INCLUDED
24/7 Traffic Monitoring
INCLUDED
INCLUDED
INCLUDED
24/7 Paid Search Monitoring
INCLUDED
INCLUDED
INCLUDED
Same Day Issue Resolution
INCLUDED
INCLUDED
INCLUDED
Automated Phone Verification
INCLUDED
INCLUDED
INCLUDED
Email Verification
INCLUDED
INCLUDED
INCLUDED
Address Verification
INCLUDED
INCLUDED
INCLUDED
Website Ownership Verification
INCLUDED
INCLUDED
INCLUDED
Traffic Source Monitoring
INCLUDED
INCLUDED
INCLUDED
Referring URL Monitoring
INCLUDED
INCLUDED
INCLUDED
Analyze Publisher Logins by IP
INCLUDED
INCLUDED
INCLUDED
Analize Publisher Registrations by IP
INCLUDED
INCLUDED
INCLUDED
Active Links Monitoring
INCLUDED
INCLUDED
INCLUDED
Traffic Redirects Monitoring
INCLUDED
INCLUDED
INCLUDED
Block and Disable Publisher Links at any time
INCLUDED
INCLUDED
INCLUDED
Instantly Disable User Accounts
INCLUDED
INCLUDED
INCLUDED
Campaign Monitoring Thresholds and Alerts
INCLUDED
INCLUDED
INCLUDED
Unusual User Account Alerts
INCLUDED
INCLUDED
INCLUDED
Publisher Profile Fraud Analysis
INCLUDED
INCLUDED
INCLUDED
Custom Profile Fraud Alerting
INCLUDED
INCLUDED
INCLUDED
Publisher Activity Fraud Analysis
INCLUDED
INCLUDED
INCLUDED
Custom Activity Fraud Alerting
INCLUDED
INCLUDED
INCLUDED
Self-Managed
Setup
and Launch
Full Program
Management
 
 
 
Account Setup, Launch,
and Implementation
-
INCLUDED
INCLUDED
New Program Promotion
-
INCLUDED
INCLUDED
Publisher Recruiting: Based on publisher's business model as
well as track record.
-
INCLUDED
INCLUDED
Pre-Screen All Publisher Applications
-
INCLUDED
INCLUDED
Publisher Application Processing: Review, Approve, or Deny
all Applications
-
INCLUDED
INCLUDED
Publisher Support: Respond to all Publisher Inquiries and
Correspondence
-
INCLUDED
INCLUDED
Create all program terms and conditions, including SEM rules
-
INCLUDED
INCLUDED
Create and optimize all programs positioning information
-
INCLUDED
INCLUDED
Provide guidance on best promotional details, banners,
text links, etc.
-
INCLUDED
INCLUDED
Setup and upload all marketing materials, including all text
links and banners
-
INCLUDED
INCLUDED
Implementation of commission structure and cookie duration
-
INCLUDED
INCLUDED
Full Management of all Program Tasks
-
-
INCLUDED
Business Goals and Marketing Strategy
-
-
INCLUDED
Develop and maintain a knowledge base of your website's
program description, including FAQs.
-
-
INCLUDED
Create and send weekly promotional newsletters
-
-
INCLUDED
Multi-Network and in Network Recruitment
-
-
INCLUDED
Publisher Activation and Optimization
-
-
INCLUDED
Deliverable Publisher Optimization Placements
-
-
INCLUDED
Multi-Network Analysis, benchmark comparison
and Reporting
-
-
INCLUDED
Publishers communications and announcements
-
-
INCLUDED
Transaction Inquiries: manage all transaction
inquiries made by publishers
-
-
INCLUDED
Respond to any inbound Publisher inquires, or pass them to
the appropriate person in your organization
-
-
INCLUDED
Generate and send weekly and end of month Publisher
program activity reports
-
-
INCLUDED
Account Setup, Launch, and Implementation
-
-
INCLUDED