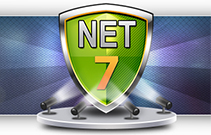 FlexOffers.com is excited to announce the launch of NET 7 Payments, the first in a series of new enhancements to our platform designed to optimize the overall user experience.
NET 7, quite simply, allows qualifying publishers to get paid faster than ever before. After 30 days of sales, you will get paid on the 7th business day of the following month. This is a quarter of the time as compared to the NET 30 payments typically offered through FlexOffers.com, and a fraction of what it normally takes the competition.
---
Why wait 60-90 days to get paid after the closing of the month, when with FlexOffers.com you'll get your payment 7 days after? Faster payments simply means you can make your money work more towards your needs, whether paying for advertising budgets, or your credit card bills. Why pay unnecessary finance charges? We'll make sure we can help you with the growth of your site!
To qualify for NET 7, if you are a new publisher, and have never worked with FlexOffers.com before, you need to generate at least $5,000 in monthly revenue. For existing publishers who are currently on NET 30 payment terms, we're asking that you increase your existing monthly revenue by 30% after the $5,000 threshold. It's as simple as that. If you are interested in being setup with NET 7 payments, simply email us at [email protected].